GABRIELLE STEFANKO
President
Gabrielle is a fourth year student at DAAP pursuing a Bachelors in Architecture and a certificate in Historic Preservation. On campus she is also involved with the University Honors Program and The SAID Lobby. She has been with TEDx since her first year at UC, beginning as a DLP member followed by design chair, and values the lasting relationships and important conversations around sharing ideas that she has had through this organization. She is excited to be leading this crew of passionate TEDx-ers this year!
DANIEL ROWE
Vice President of Operations
Daniel is a fourth year studying Business Analytics, Economics, and French, aiming to work in education reform at local, state, and/or national levels. He enjoys picking up hobbies for a few months, some of the recent ones have been reading, tennis, golf, running, and binging Netflix comedies.
SHWETHA BINDU
Vice President of Content
Shwetha is originally from Dayton, Ohio and is currently a third year studying medical sciences at UC. She works as an SI with the Learning Commons on campus and as a research intern with the iCDCU lab at UCCOM. In her free time, she loves biking near her home, listening to history podcasts, and making corny puns. This is her third year with TEDxUC, and she's so excited for yet another awesome year with the team!
DR. CHARLES MATTHEWS
Faculty Advisor
Distinguished Teaching Professor of Entrepreneurship and Strategic Management, Fellow of the Graduate School; J. William Fulbright Fellow (2018); Founder Center for Entrepreneurship Education & Research (Executive Director 1997-2013); Director; Small Business Institute® (1982-2013), Lindner College of Business, U. of Cincinnati. He is an internationally recognized scholar and innovative teacher in the field of entrepreneurship. His teaching and research interests include: strategy, entrepreneurship, innovation, leadership and decision making.
TYLER DURR
Director of Finance
Tyler is a third-year Finance student in the Lindner Honors-Plus program studying Finance, with aspirations in portfolio management and interests in Financial Literacy. He is the organization's Director of Finance and a founding member of the Warren Bennis Leadership Experience. In his free time he enjoys time spent outside, especially hiking and biking and loves a great conversation.
OLIVIA HAINES
Director of Speaker Relations
Olivia is a third year neurobiology and psychology student who was born and raised in Cincinnati, Ohio. She works as a singer and keyboardist in a band and loves to play and listen to music all the time. Whenever she has free time, she bakes for her roommates, takes care of her many plants, and does yoga- preferably with friends.
RACHEL HILLER
Director of Salons
Rachel is a fourth year studying Interdisciplinary Studies (concentrating in Public Health and Communications) with a Creative Writing certificate. Aside from TEDx, she is involved in Eta Sigma Gamma (a health promotion club), Video Production Club, and Delta Phi Lambda Sorority, Inc., an Asian-interest sorority on campus. She likes reading, writing, watching tv and movies, hanging out with friends, trying new things, and making puns.
ANDREA SZEP
Director of DLP
Andrea is a second year majoring in Medical Sciences with a minor in Public Health. Outside of TEDxUCincinnati, she is involved in the UC Competitive Club Tennis team, the Right 2 Health movement, and research at Cincinnati Children's, and in her free time, she enjoys cooking, hiking, and playing the piano.

MEKDELAWIT WOLDEYES
Director of Marketing
Mekdelawit Woldyes is a transfer student in the SoIT program. She is pursuing her Bachelor's degree in Networking and is expected to graduate in spring 2022. She is very excited to be part of TEDxUCincinnati this year to gain a variety of experiences from a diverse community. Even though she is an "IT nerd," she used to be a professional volleyball player and loves anything related to the outdoors.
SABRINA RAMSAY
Director of Design
Originally from Columbus, Sabrina is stumbling through her fourth year studying Architecture with passions in design, travel, and storytelling to guide her. She is an active member of The SAID Lobby, and is the chair of their Graphics Committee. Coca-Cola runs through her veins, she is emotionally dedicated to European auto racing, and she thinks that Phineas and Ferb is the pinnacle of animated entertainment.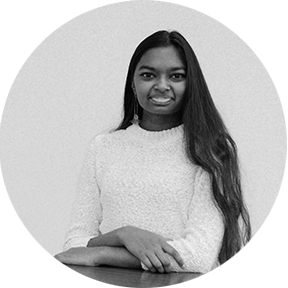 ANJU ARULMANI
Organizational Development Chair
Anju Arulmani is a Chemical Engineering student at the University of Cincinnati. She is passionate about hearing, spreading, and sharing other people's passions along with her own. And, TEDxUCincinnati is the perfect place to do that.

CASSIDY HOOK
Speaker Relations Chair
Cassidy is a chair for the Speaker Relations team this year. She is a second year studying Information Systems and Marketing with a Minor in Spanish. She loves all things TED and her favorite TED talks is "The Power of a Single Story" by Chimamanda Ngozi Adiche.
HASEEB BAKALI
Photography & Marketing Chair
Haseeb Bakali is a third year student at the University of Cincinnati majoring in Biomedical Engineering and minoring in Marketing! He enjoys photography, videography, sports, and hanging out with friends! Haseeb is excited to be a part of an organization that allows individuals to have a platform that can inspire others to achieve greatness and set the next generation up for success!
MADELEINE GERDING
Design Chair
Maddie is a third year pursuing a Bachelor's of Science in Design as well as Minors in Marketing and Psychology. I️n her free time you could catch her searching for Cincinnati's best taco or feeding her shoe obsession. Outside of class, she is a team member and design chair of UC's club swim team and a designer for University of Cincinnati Athletics.
SACHIT RUSTAGI
Sponsorship Chair
Sachit is a fourth year Medical Sciences major with aspirations of becoming a physician. He is originally from Columbus, Ohio and loves to spend time outside going on hikes and playing sports. On campus, he is involved with tutoring and mentoring students through Bearcat Buddies and is a member of the University Funding Board. He is excited about TEDxUCincinnati this year to present a diverse speaker group and invite insightful conversation! !
MARK KENT
Salons Chair
Mark Kent is a second-year student studying International Business and Marketing with a minor in Management at UC. He was born in Ireland, lives outside Boston, and somehow found his way to UC. He loves to read a good book, catches Formula 1 races at the weekend, and is always open to trying out some new food or music.
VIA KENTNER
DLP Curriculum Chair
Via Kentner, a Wapakoneta native, is a third year at the University of Cincinnati studying Education with a minor in Entrepreneurship. She is an Academic Coach in the UC Learning Commons, the Collegiate Academic Chair of Tri Delta, a member of the Student Alumni, an Ambassador for CECH, a Spin Instructor in the UC Campus Recreation Center, and is founder of the Non-Profit Ready, Set Graduate! She loves to run, sing, read, and is so happy to be the Discovering Leadership Program (DLP) Curriculum Chair.

RAVINA KHEMANI
Salons Chair
She is a 4th year student studying operations management and international business. She is an international student from Singapore but was born in Dubai. She is an Academic Coach, a University Honors Scholar, and is involved with UC International Admissions. She loves to dance, and declutter.
AUDREY ALBERTO
Design Chair
Audrey is a 4th year architecture student at DAAP. She is also pursuing a minor in Art History, as well as a certificate of Historic Preservation. Audrey joined the TEDxUCincinnati design team to become more involved with the university and to apply her design skills outside of class.
INNA RISMA
Speaker Relations Chair
Inna Risma is a third-year at the University of Cincinnati studying Communications with a minor in Marketing and a certificate in Student Leadership. As a proud Darwin T. Turner Scholar and University Honors Program Student, she passionately advocates for diversity and inclusion on campus. When she's not in meetings or class, Inna will most likely be found in a coffee shop drinking an iced vanilla latte with oat milk and light ice. She's excited to join TEDx for her first year and be part of such an amazing team!

SIMHYA KARTHIKEYAN
Social Media Chair
Simhya Karthikeyan is a first year medical sciences major with a minor in public health. In her free time, she likes to travel and drink coconut water!
CHARLOTTE SPREECHER
Speaker Relations Chair
Charlotte is an International Business major with interests in Chemistry and Linguistics and the goal of working with international humanitarian organizations in the future. Outside of TED, she is involved in Engineers Without Borders, UC Hot Chocolate Club, and H2O. Her favorite TED Talk is How Language Shapes the Way We Think by Lera Boroditsky.